It's not about becoming well-rounded. It's about becoming fully-equipped.
The 360 Leadership System is a program designed to help clients develop and improve their capabilities in six specific areas, to more effectively deliver on the three essential leadership responsibilities — Vision, People, and Results.
This twelve-week, group-based program provides a powerful leadership development experience by focusing on the six following leadership capabilities, each of which is an essential component of being a successful leader:

* Providing Inspiration
* Seeing Possibility
* Getting Results
* Bringing Order
* Creating Growth
* Demonstrating Care
These six capabilities are central to every leader's success — and to the degree that any of them are over/under utilized, an individual's ability to lead can be significantly compromised.
In working with leaders and managers across multiple industries and organizations, I have found that the most effective approach to creating sustainable transformation is based in working on the underlying polarities associated with these six leadership capabilities.
This focus on polarities (seemingly opposite pairs, both of which are necessary for success over the long-term), allows clients to see deeper than the surface-level "technical" challenges at hand and to begin working on the underlying "adaptive" challenges that will elevate their leadership to a new level.
The primary tool I use for these leadership and management coaching engagements is Andiron's Leadership Key Polarity Indicator™ (KPI) Assessment.
This powerful assessment provides a detailed and comprehensive view of the three primary leadership responsibilities, the six corresponding capabilities needed to deliver on those responsibilities, and the six underlying polarities that drive the capabilities.
It is remarkably powerful and helps pinpoint where clients may be experiencing the negative effects of either over or under using particular behaviors within a given polarity.
The Leadership KPI provides key insights and action strategies for both horizontal and vertical development — and allows for detailed, insightful 360 degree feedback as well.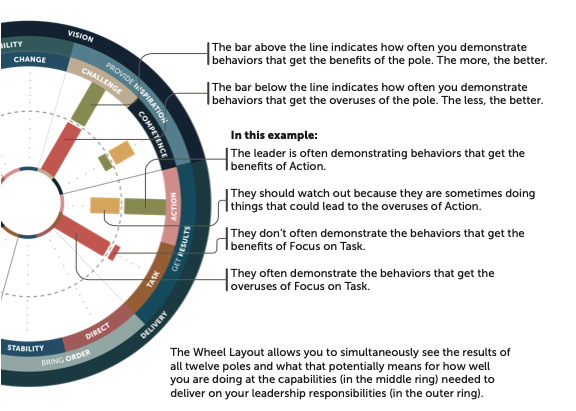 I am certified in offering both of Andiron's KPI Assessments (Leadership and Human) and have used it with clients across multiple industries and organizations, including:

* Airbnb
* Accenture
* Boston Consulting Group
* The Ken Blanchard Companies
* Georgetown University's Leadership Coaching Program
* USAID (United States Agency for International Development)
* YouthBuild Philadelphia Charter School
* Ascend+ (Dublin)
* Racing To Equity (R2E)
If you're interested in improving your capabilities to engage and support your people, cast a powerful and inspiring vision, and deliver consistent and reliable results, I'd love to discuss how the 360 Leadership System could be of benefit to you.
You probably already noticed that there aren't any buy-buttons on my website. The best way to see if there's a good fit between us is to have a conversation. Regardless of what we decide, I promise it will be of value to you. Let's talk — my contact information is below with a link to schedule a call or meeting.